If you are looking to give your entryway a makeover without breaking the bank, this post is for you. You know what they say, "If it ain't broke, don't fix it". If you're still happy with your front door, there's no need to spend money on a new one. A fresh coat of paint can get any door looking its best in no time. Arctic White, Chestnut Brown, Pale Yellow, Ultra Black, Vibrant Pink, Whale Blue – the choice is yours! Not sure where to start? Here are some amazing paint colour ideas to inspire your brand-new front door: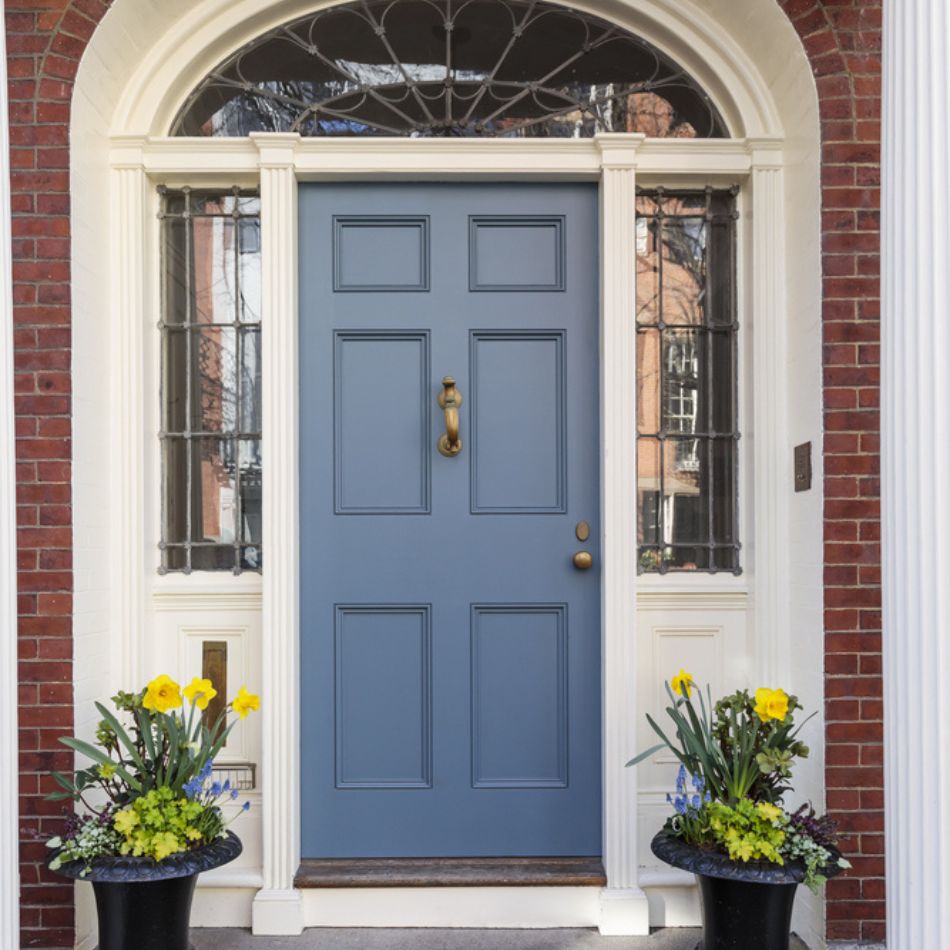 1 of 33
Paint Colour: Maritime Blue
This beautiful Maritime Blue, paired with a white trim, adds a soft and inviting touch to your entrance.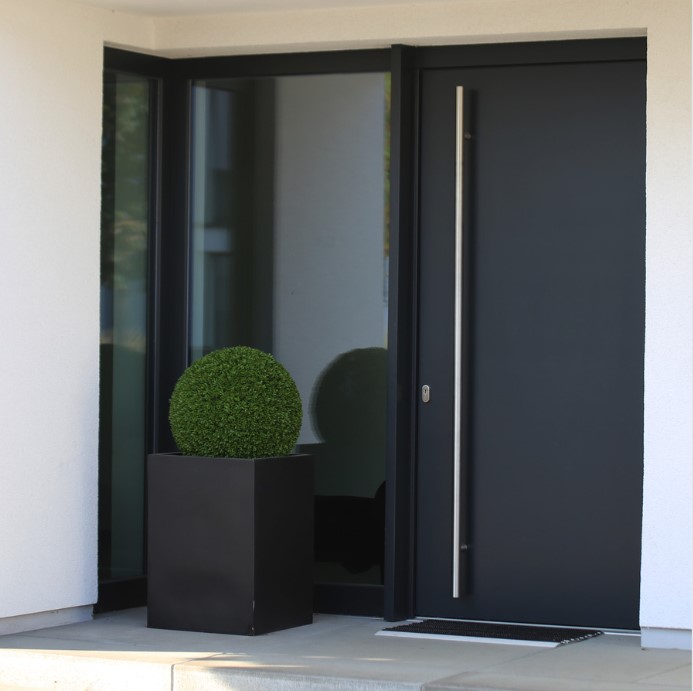 2 of 33
Paint Colour: Pearl Black
Give your entry steel door a sleek, modern look with this daring Pearl Black colour. Make it "pop" with a white wall for contrast.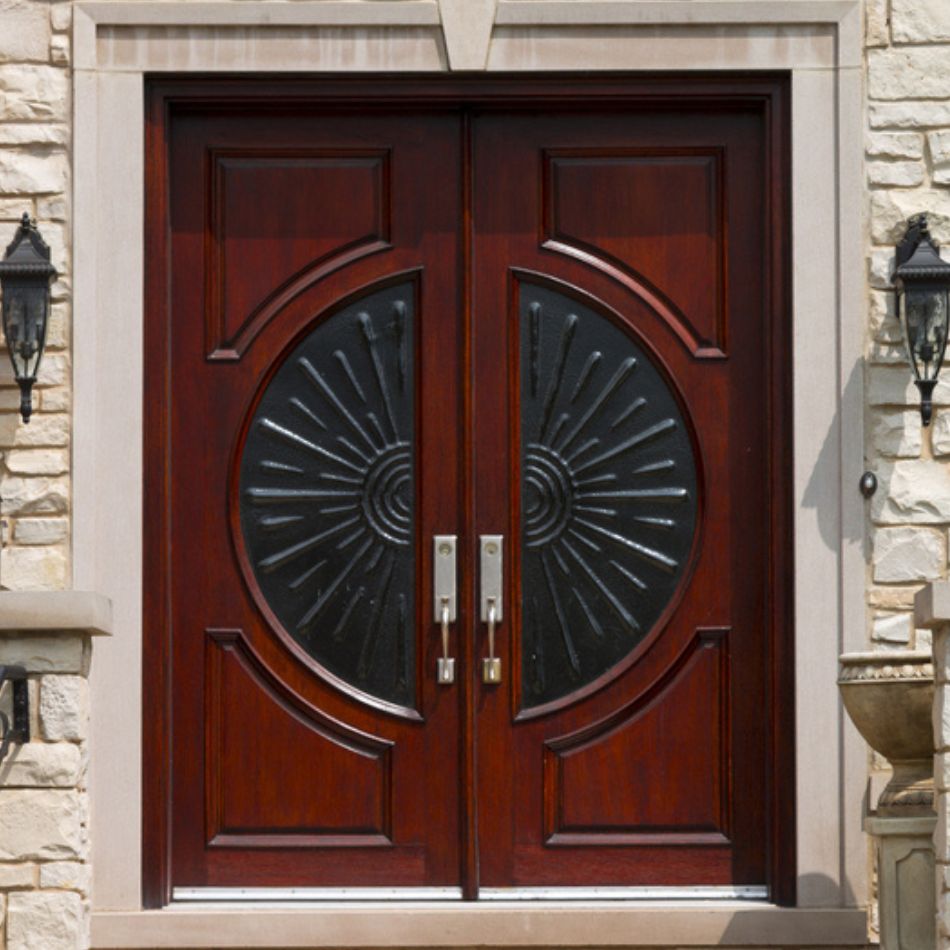 3 of 33
Paint Colour: Burgundy
If you're looking for a subtle upgrade from your classic brown door, try a burgundy colour, which sits beautifully against a neutral wall.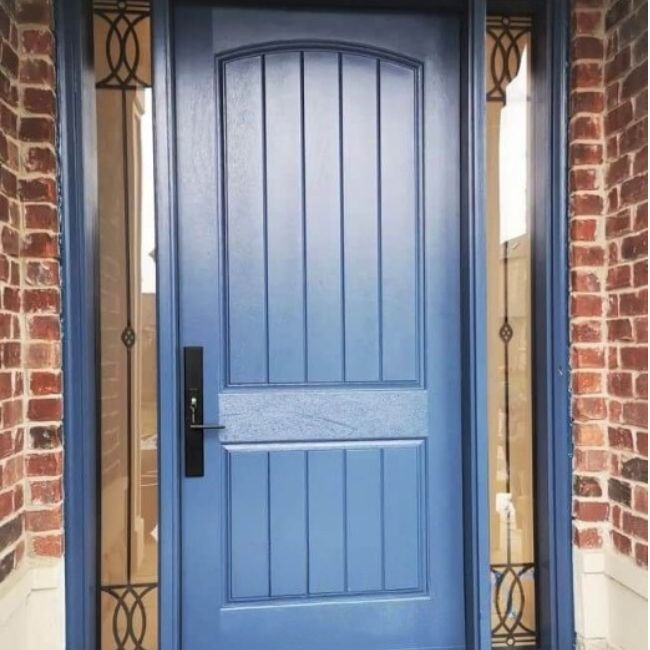 4 of 33
Paint Colour: Brilliant Blue
Add a cozy and welcoming feel to your fiberglass entry door with this lovely blue accent piece.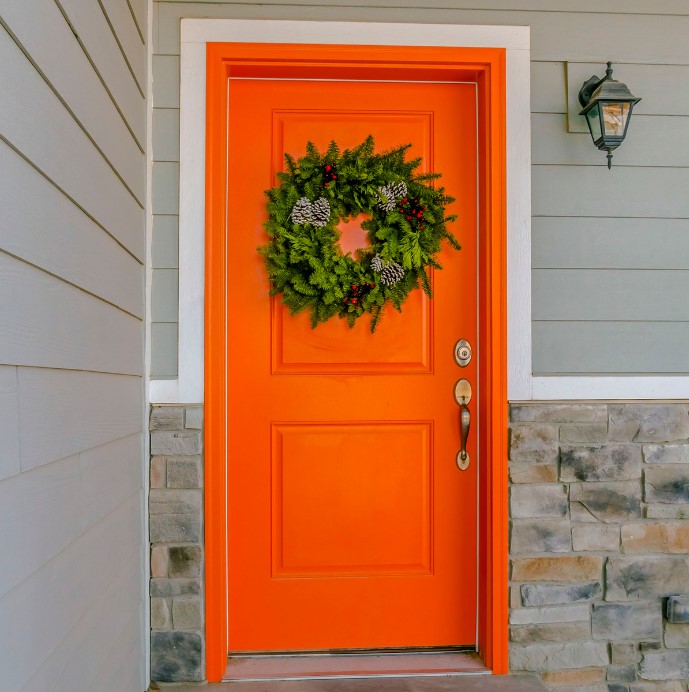 5 of 33
Paint Colour: Cayenne Orange
Combine a vibrant orange, with a muted grey for a tamed balance.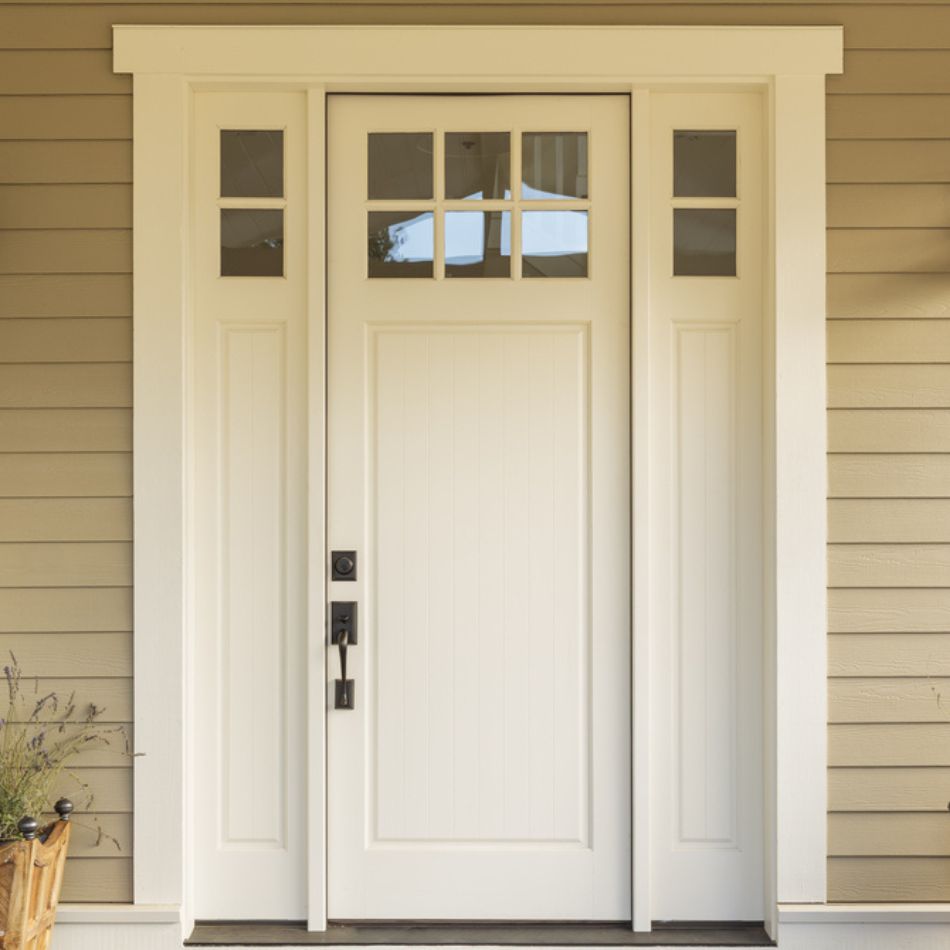 6 of 33
Paint Colour: Eggshell
There's nothing quite like a monochromatic neutral theme, that says "Welcome, come right in".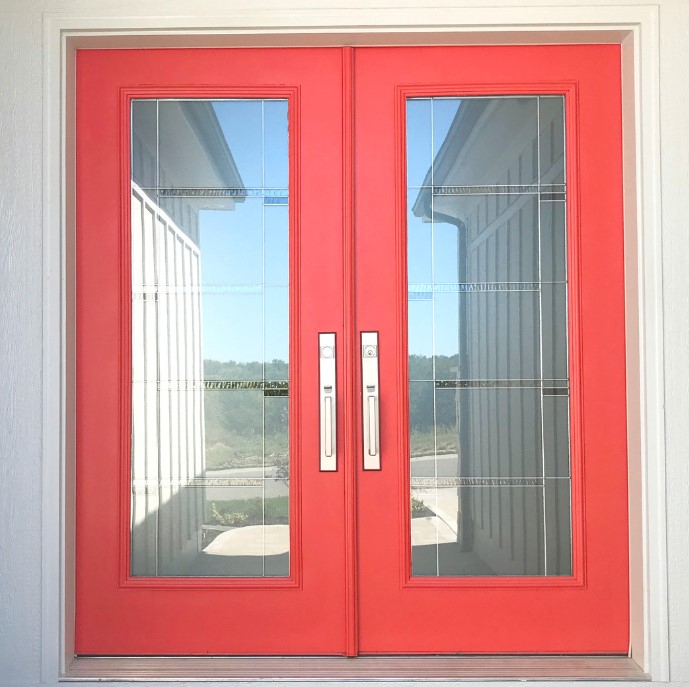 7 of 33
Paint Colour: Coral
Use this stunning Coral colour to evoke a sense of freshness and liveliness.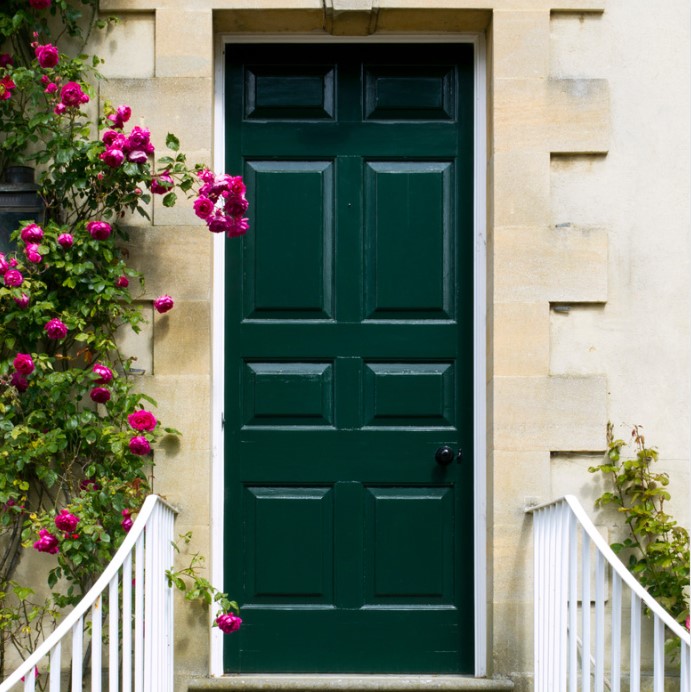 8 of 33
Paint Colour: Dark Moss Green
This Dark Moss Green pairs remarkably with a beige wall, for a rich and earthy feel.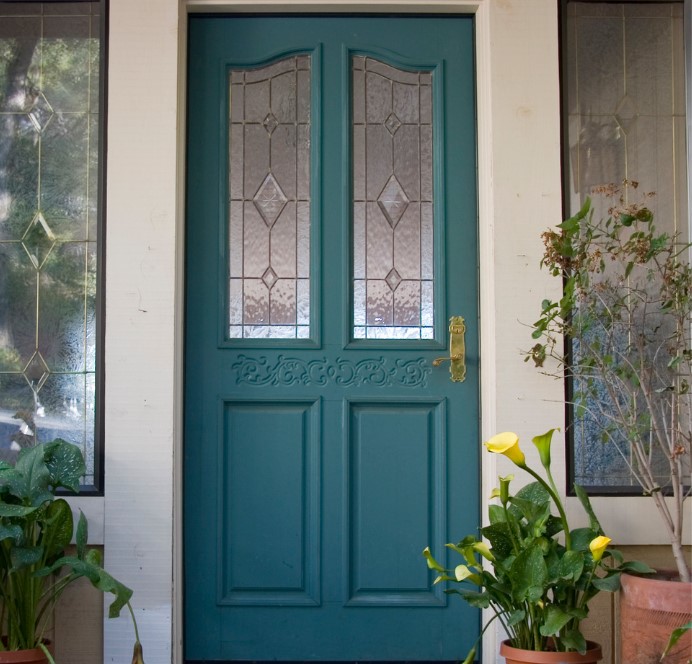 9 of 33
Paint Colour: Dark Teal Blue
Incorporate a Dark Teal Blue for a touch of colour, which pairs beautifully with gold accents.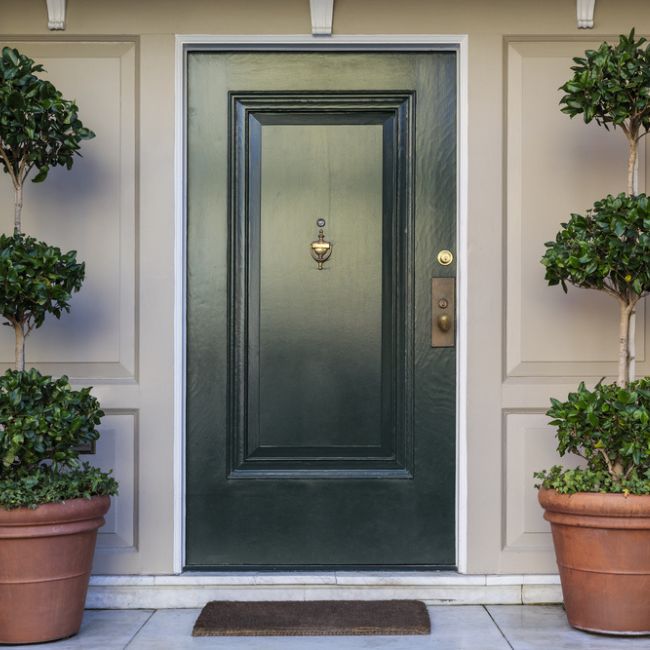 10 of 33
Paint Colour: Deep Forest Green
Consider a Deep Forest Green, which ties in seamlessly with natural greenery.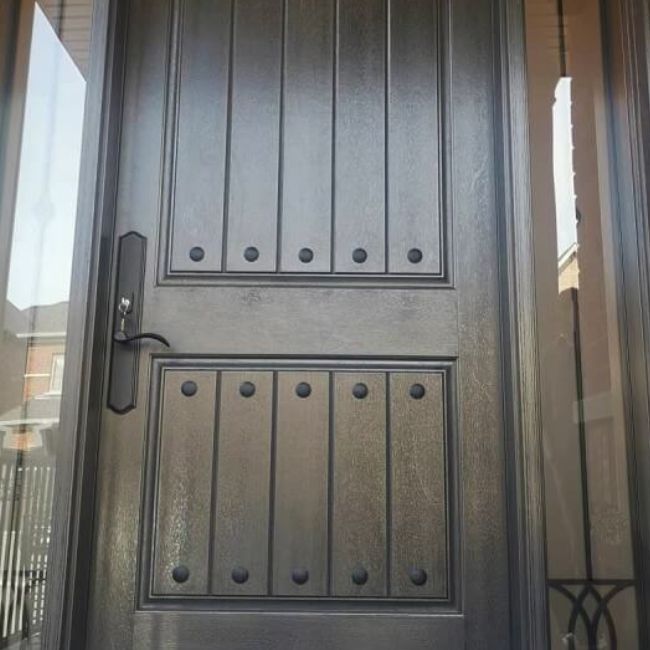 11 of 33
Paint Colour: Dove Grey
Go for Grey, paired with dark accents for a modern, monochromatic look.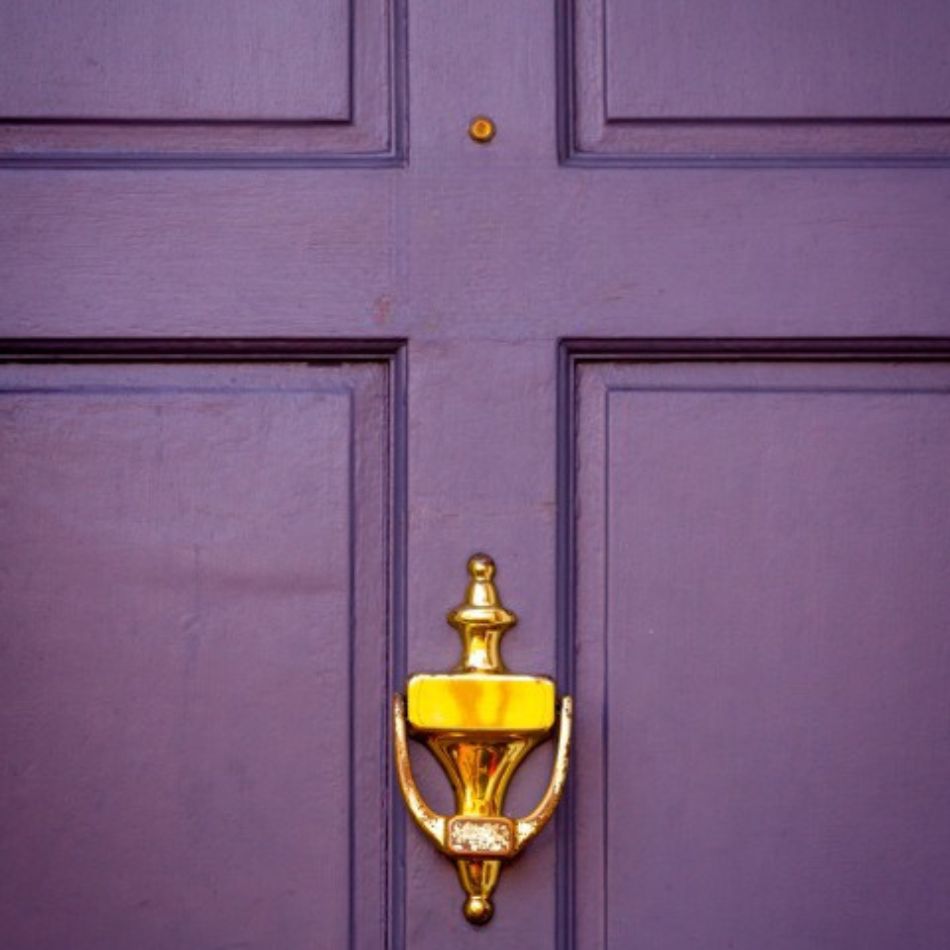 12 of 33
Paint Colour: Eggplant
Let your fun and creative side show with an Eggplant-coloured door.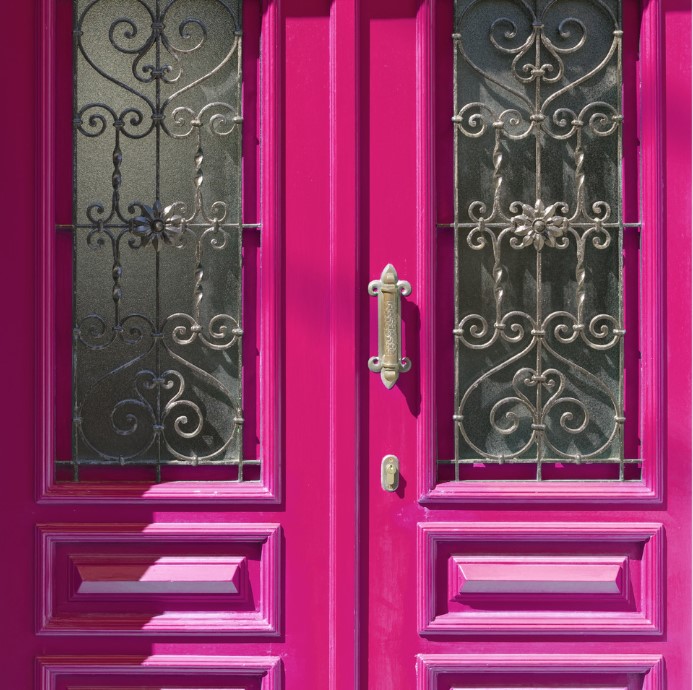 13 of 33
Paint Colour: Magenta
Turn your home into a tropical oasis with this vibrant Magenta colour.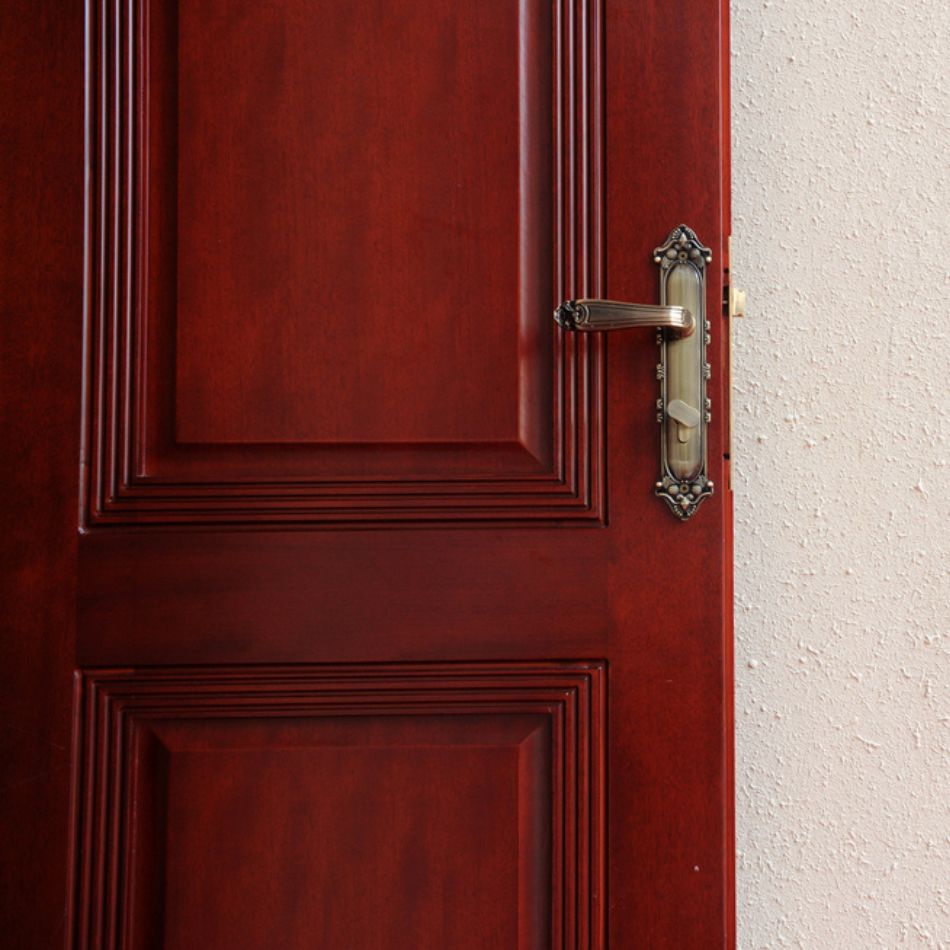 14 of 33
Paint Colour: Mahogany
Combine a classic brown colour with a touch of red and Voila, you have a brand new door!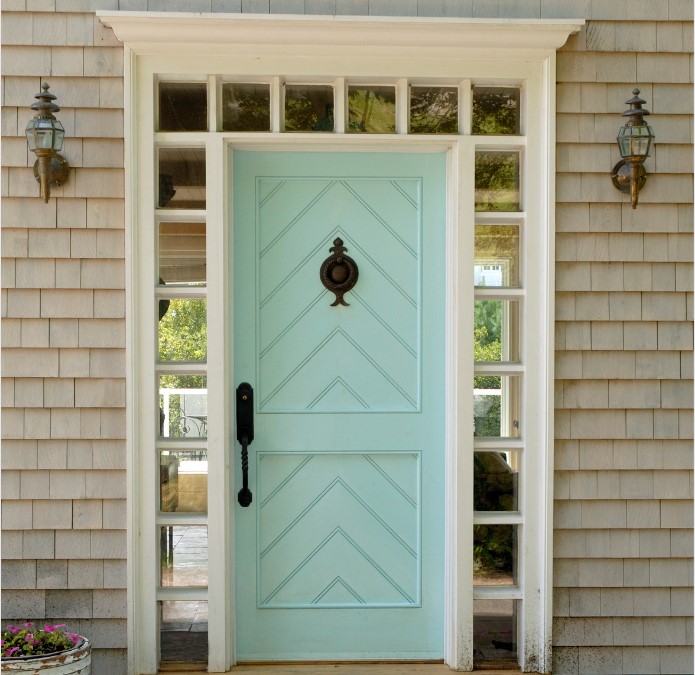 15 of 33
Paint Colour: Mint Choco Chip
Pair this Mint Choco Chip colour with a white frame, and be prepared to experience the feeling of summer all year round.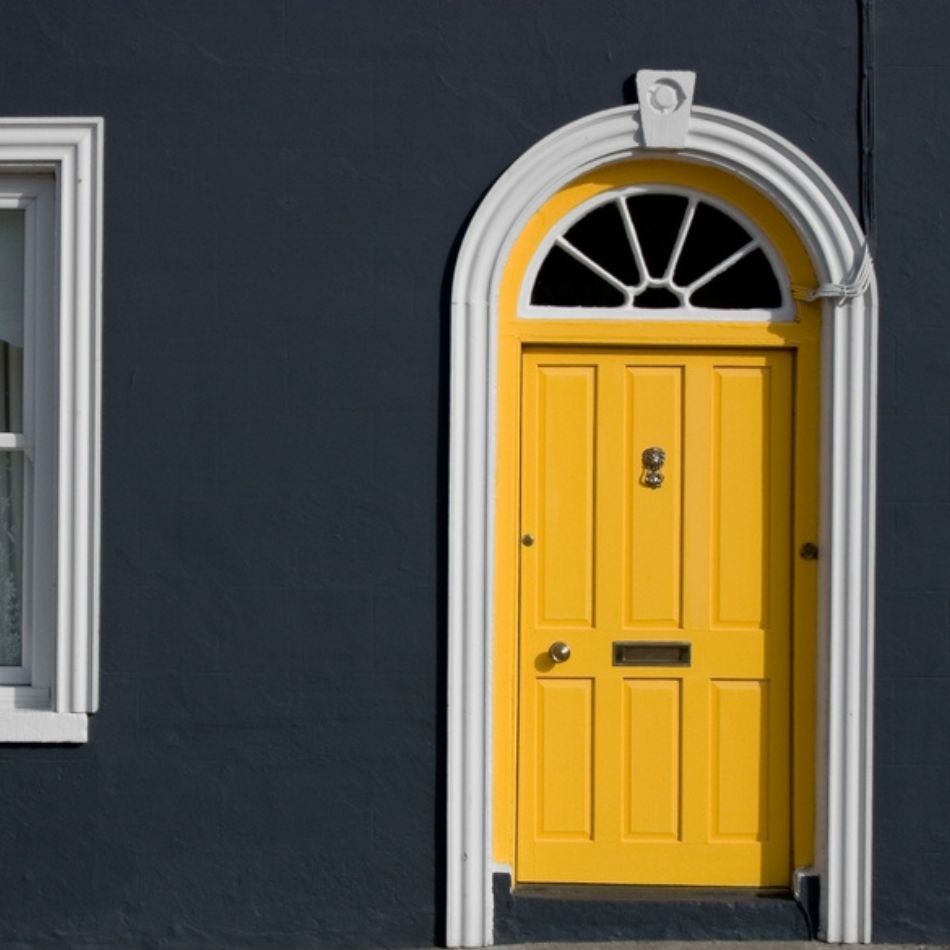 29 of 33
Paint Colour: Starburst Yellow
If you are looking to achieve a toned-down version of Yellow without compromising vibrancy, consider pairing it with Grey, to create a magical pairing.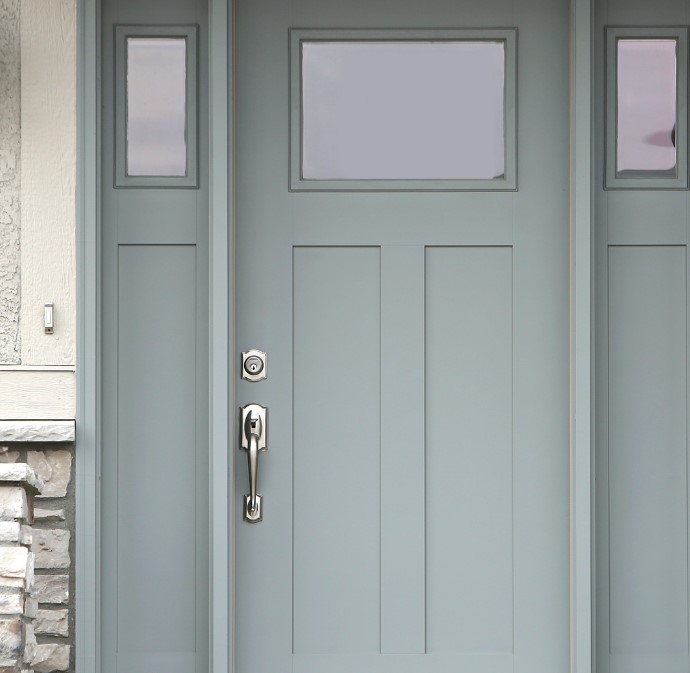 16 of 33
Paint Colour: Greenish-Grey
Hop on this colour trend for a calming, earthy feel. Enhance your door with silver accents and a neutral background.
17 of 33
Paint Colour: Mykonos Blue
If you can't go to Mykonos, bring Mykonos to you with this stunning Blue door. Add a white trim to complete the beachy look.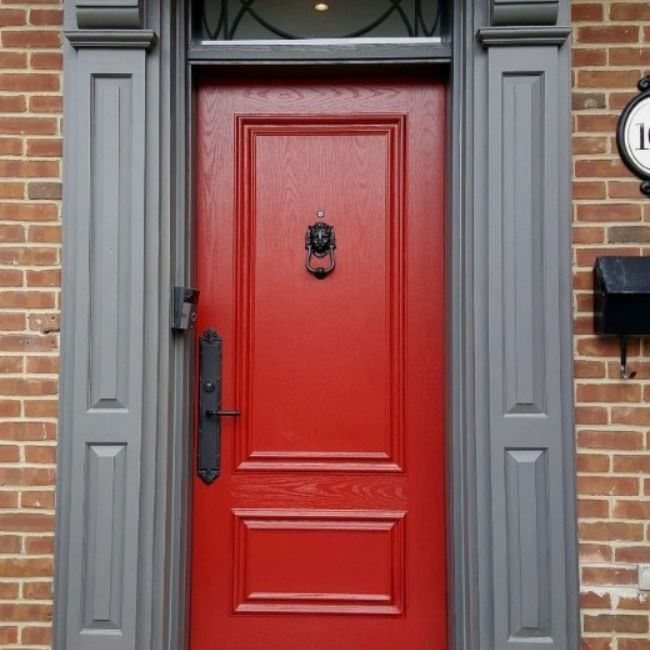 18 of 33
Paint Colour: Orange-Red
Can't decide between Orange and Red? Why not combine the two to create a bold and daring colour. Enhance the look with dark features and you can't go wrong.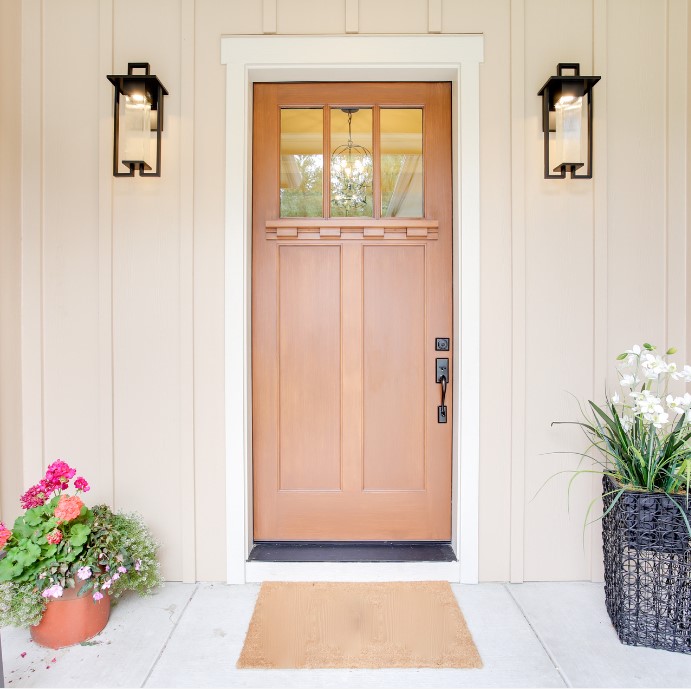 19 of 33
Paint Colour: Peach-Blush
If you are looking to add a soft, feminine touch to your home, this colour is for you!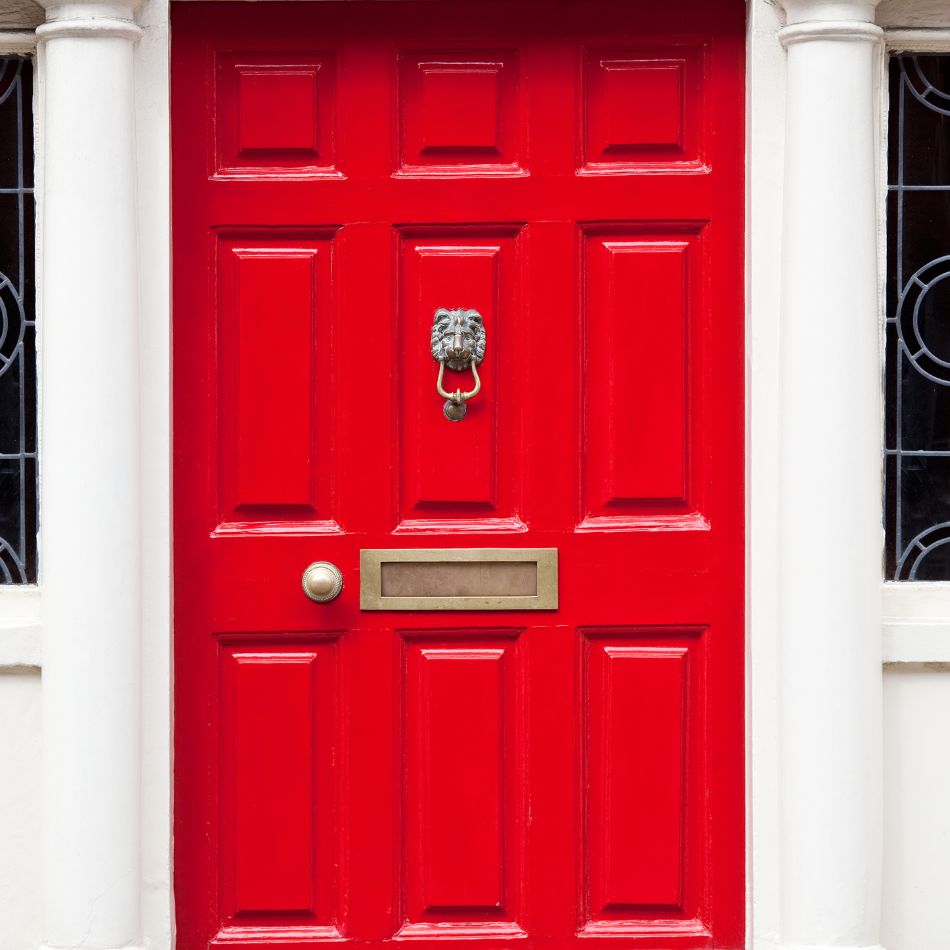 20 of 33
Paint Colour: Scarlett Red
Let your personality shine through with this Scarlett Red colour that can be paired with a light or dark trim to personalize the look.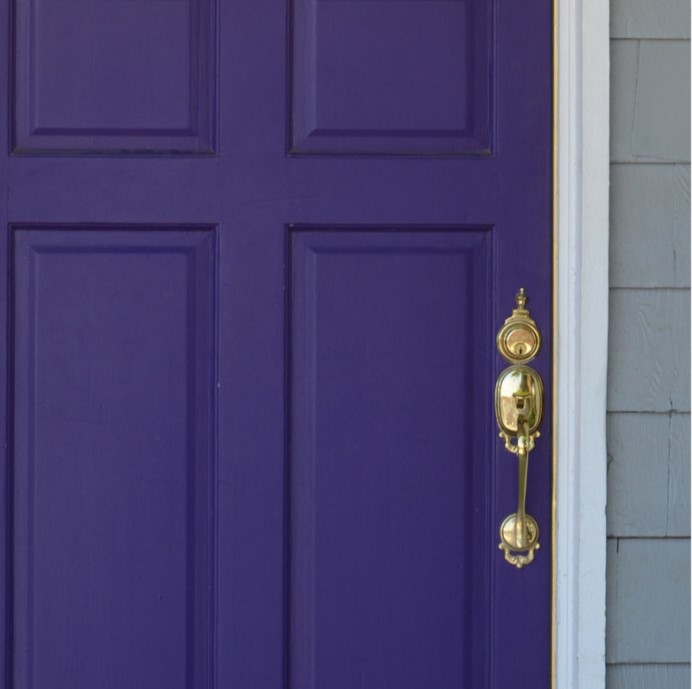 21 of 33
Paint Colour: Royal Purple
Walk through the door feeling like royalty with this Royal Purple colour,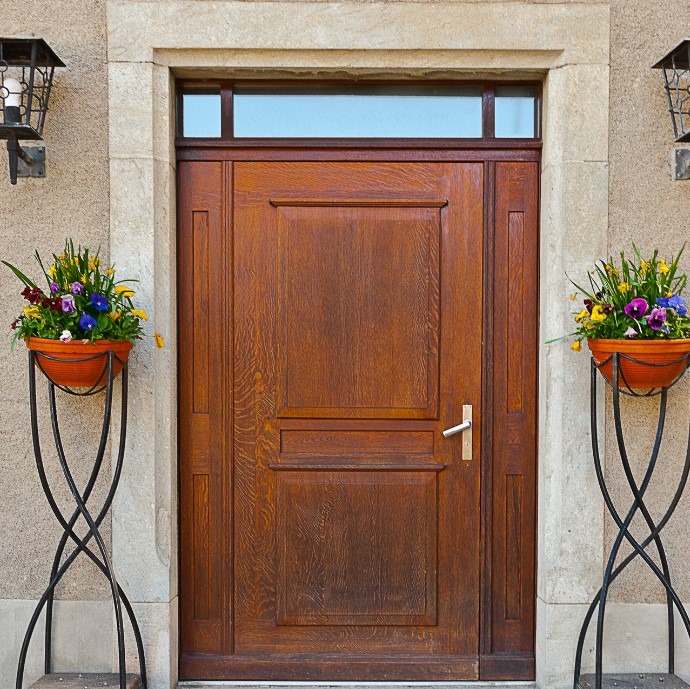 22 of 33
Paint Colour: Rust
Achieve a Rust-ic look with this that combines well with both, neutral and dark features – the choice is yours!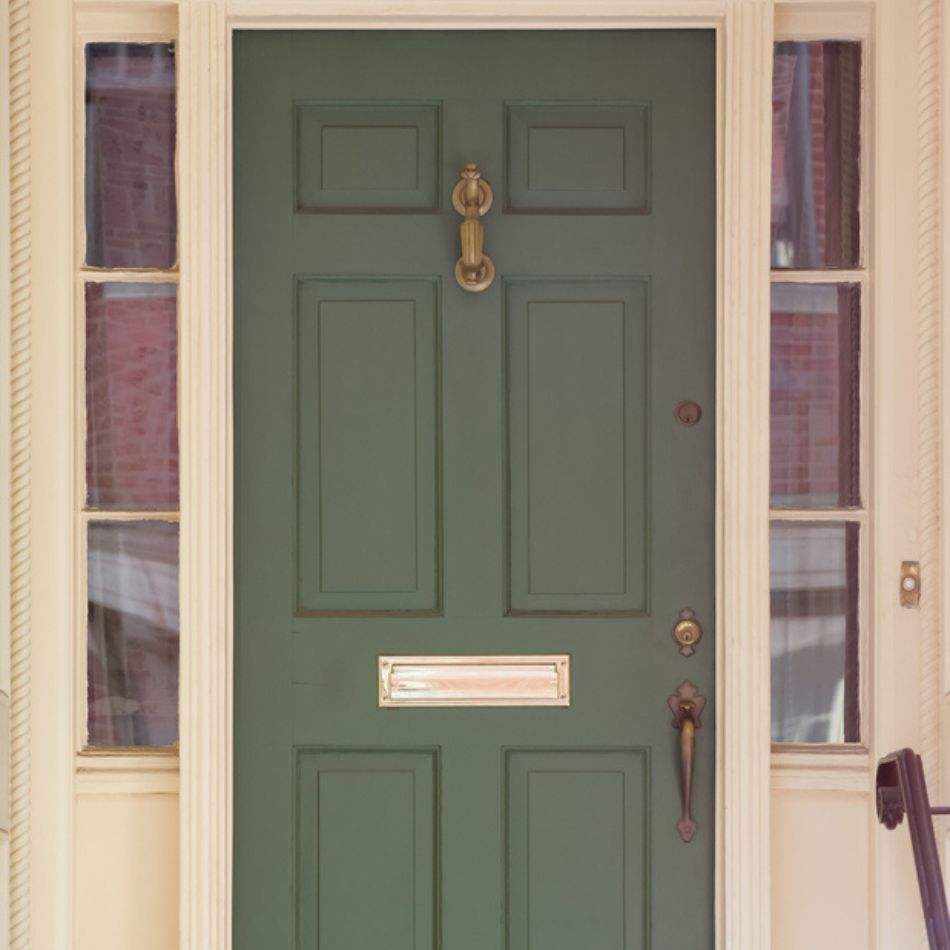 23 of 33
Paint Colour: Sage
This trendy Sage colour is the perfect way to accentuate your home. Complete the aesthetic with neutral complimentary colours, gold accent pieces, and greenery.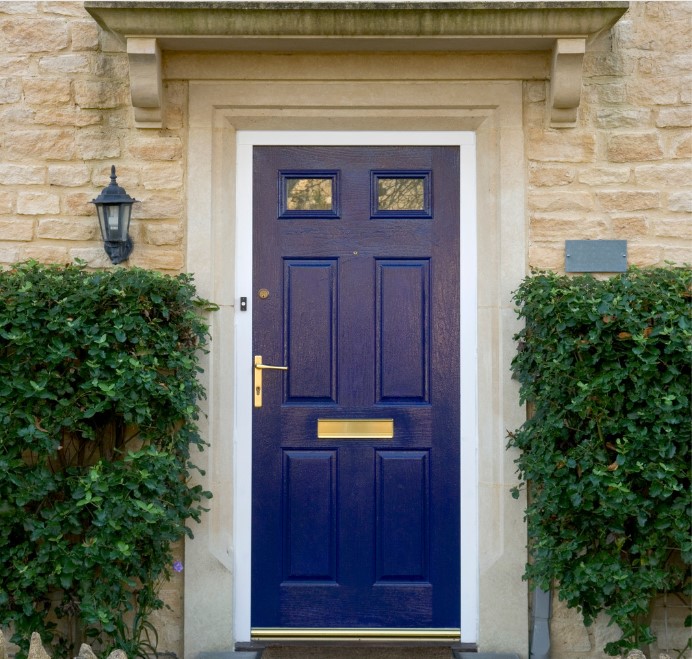 24 of 33
Paint Colour: Sapphire Blue
Level up your entrance with a glossy, Sapphire Blue that sits beautifully on  fiberglass doors. Complete the look with gold accents – your door will thank you!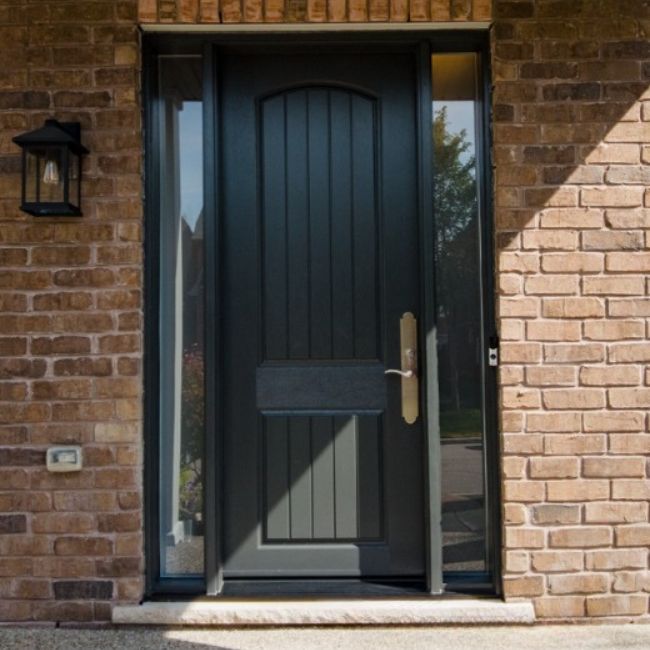 25 of 33
Paint Colour: Slate Grey
Achieve a sophisticated, contemporary look with this Slate Grey colour that goes perfectly with fiberglass and steel doors.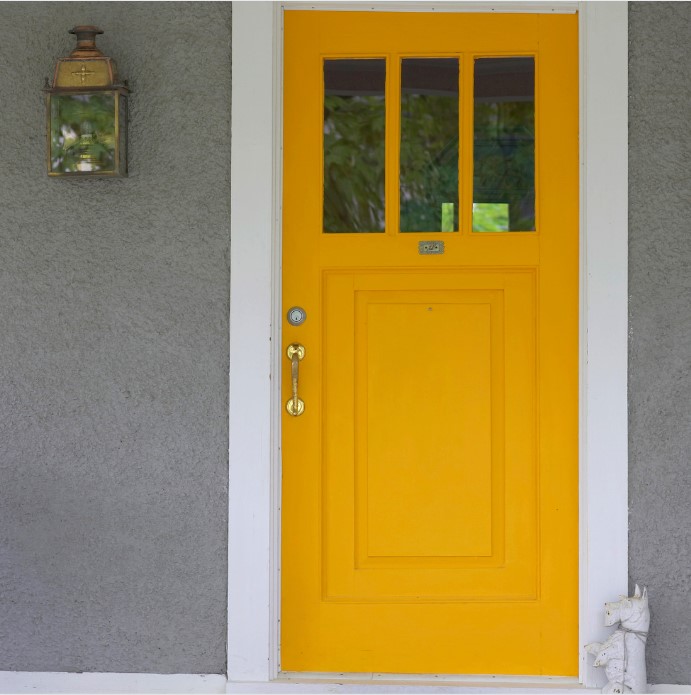 26 of 33
Paint Colour: Sunflower Yellow
Paint your door Sunflower Yellow to lighten up the winter days and make the summer days even brighter.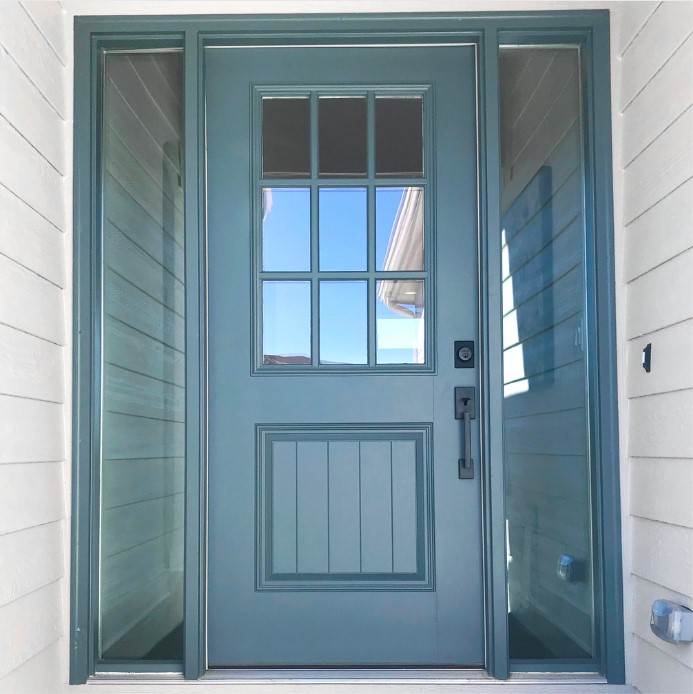 27 of 33
Paint Colour: Whale Blue
Convert your home into a beach house with this mesmerizing Whale Blue, with complimentary white walls to make the colour "pop".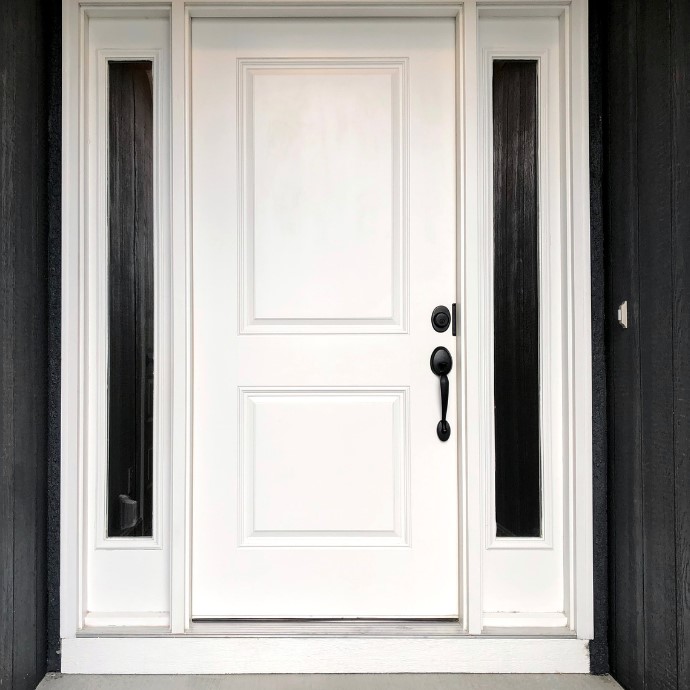 28 of 33
Paint Colour: White
There's nothing wrong with a classic white moment to brighten up any space. Give off a clean and minimalistic look, paired with neutrals or dark features.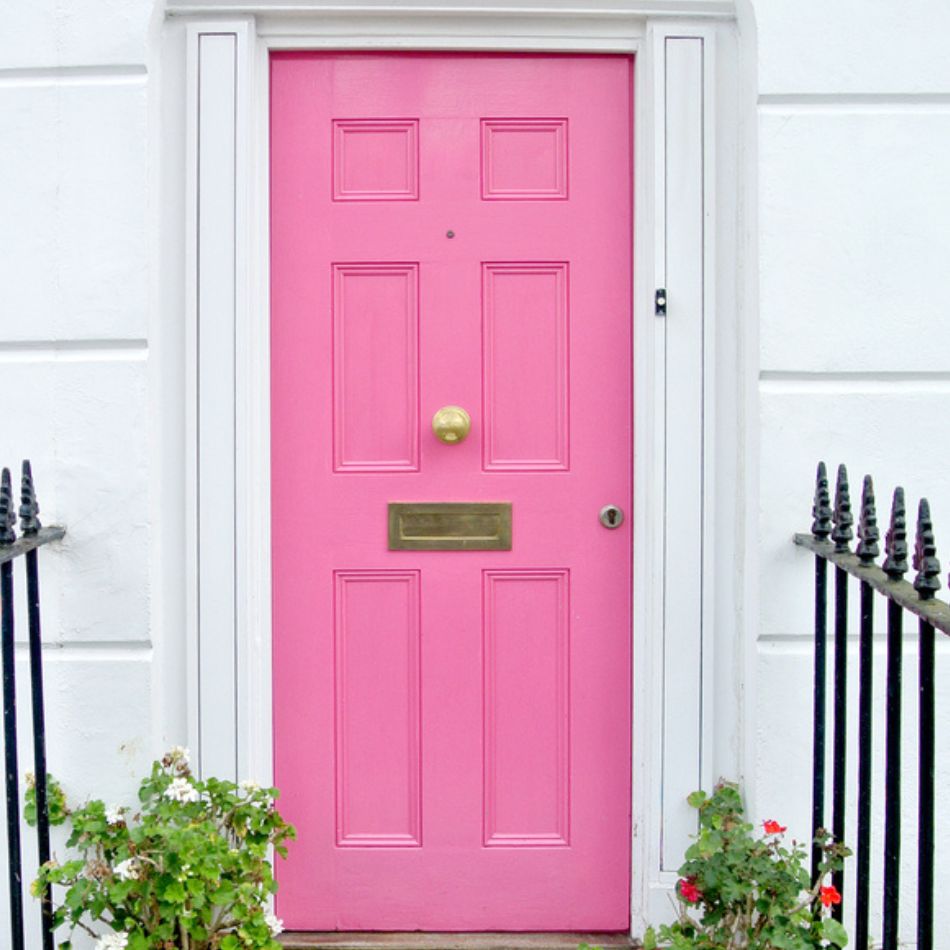 30 of 33
Paint Colour: Bubblegum Pink
Let your playful, youthful side show, through this radiant Bubblegum pink.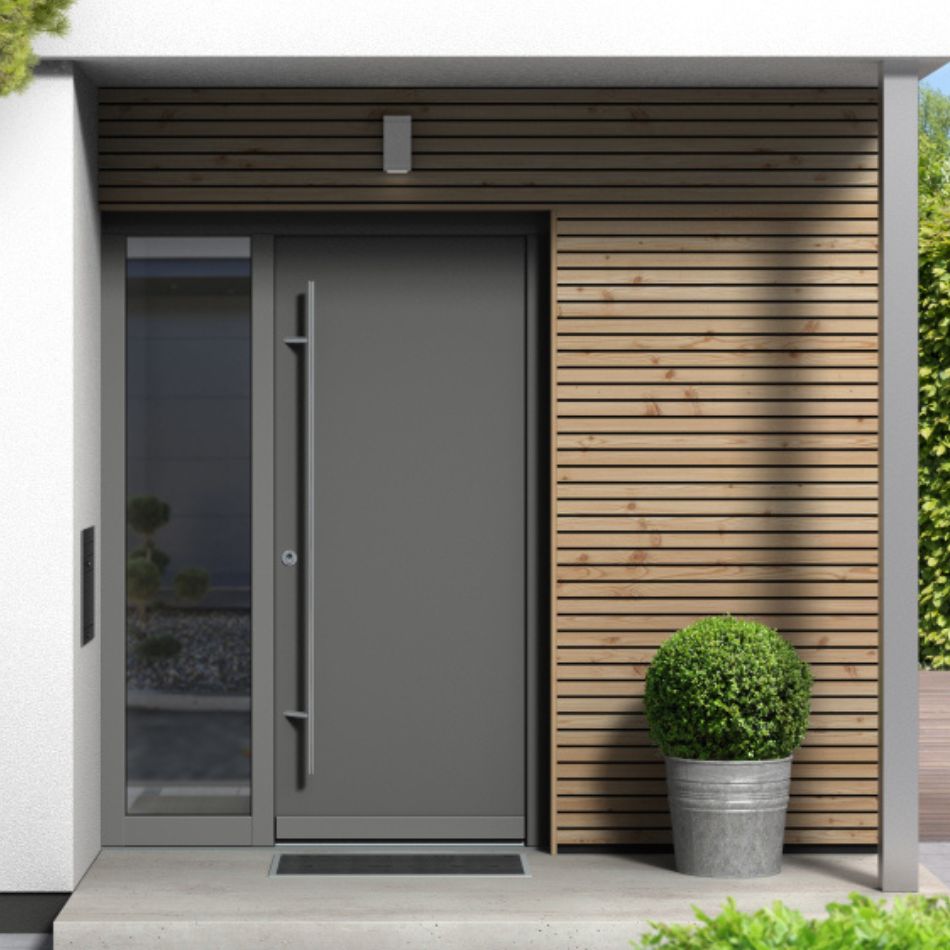 31 of 33
Paint Colour: Carbon Grey
Create a modern, sophisticated look with this Carbon Grey colour, that will accentuate your steel door.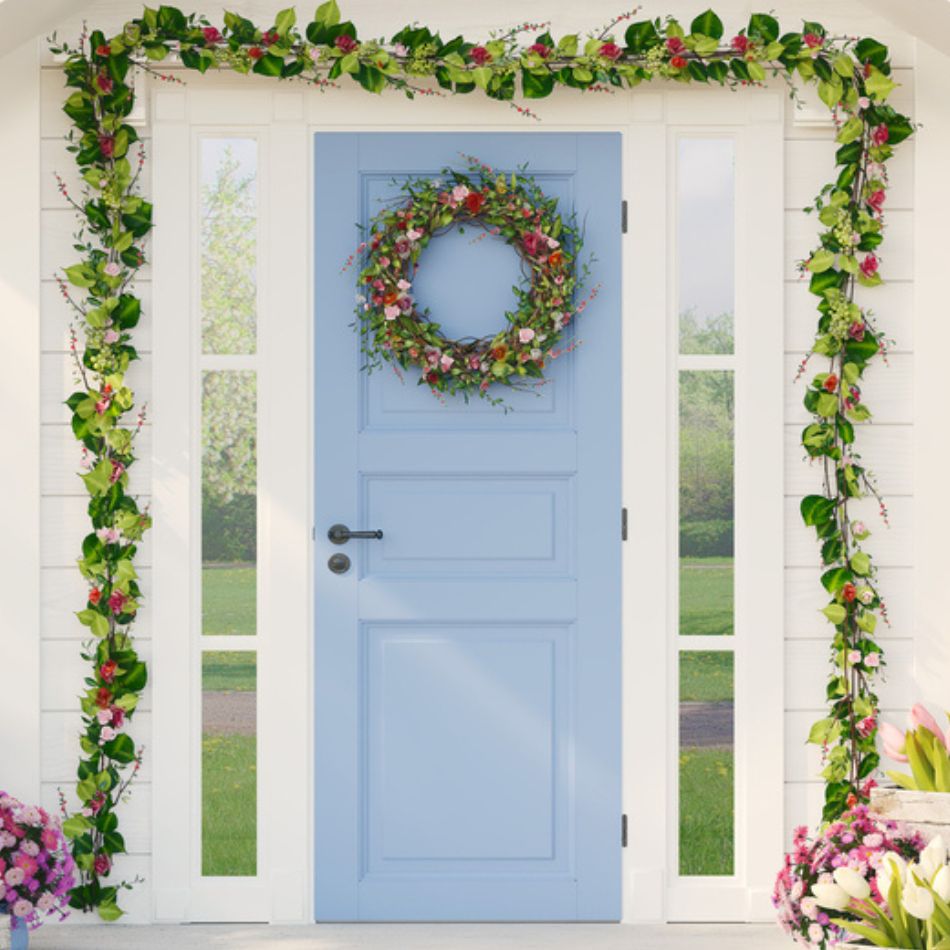 32 of 33
Paint Colour: Baby Blue
Name a better way to welcome guests into your home than thus charming and calming Baby Blue colour.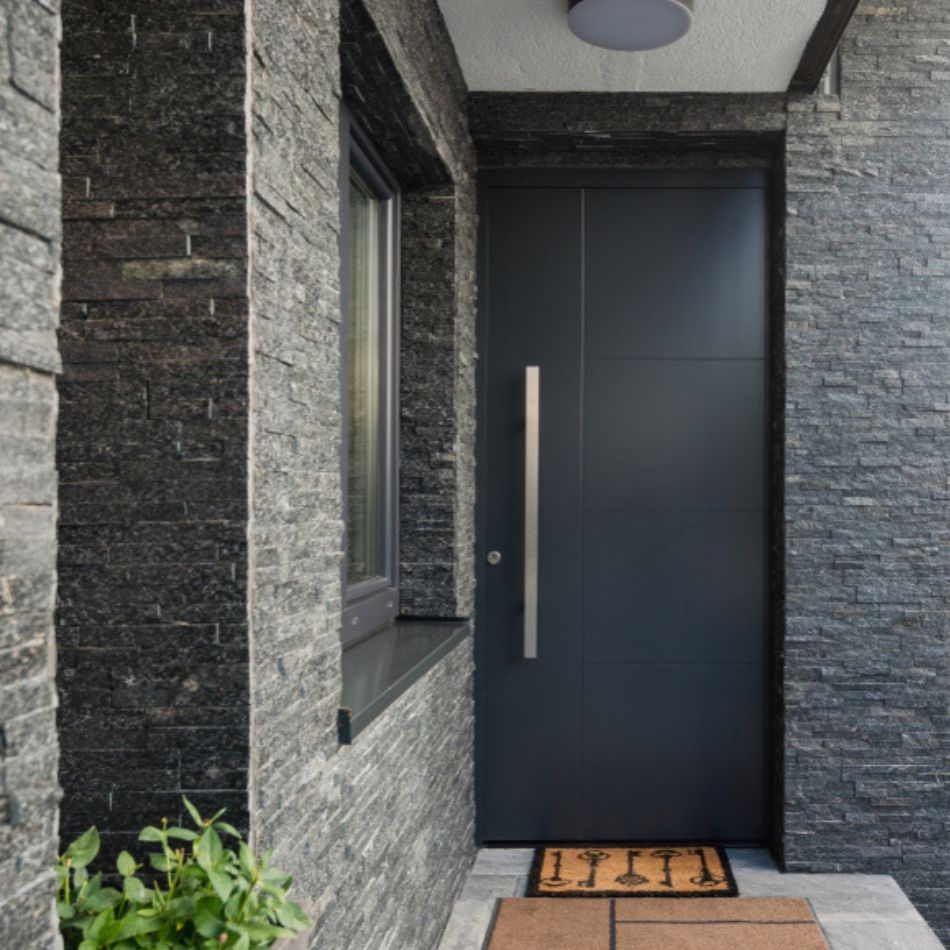 33 of 33
Paint Colour: Charcoal
Elevate your front door with this mysterious Charcoal colour. Finish the look with dark features and natural elements for a modern, stylish look.
Choosing the Right Colour for Your Front Door
Your front door greets you many times a day; when you leave for work in the morning and come back in the evening, when you welcome guests into your home when you open the door, or go out to pick up your freshly-delivered package – so why not make it pleasant to look at?
The colour of your front door can make or break the look of your home's exterior. Choosing the colour that is right for your door seems simple enough, but there are actually a few things to consider before touching the brush to the door.
Why Does the Colour of Your Front Door Matter?
The front door is your home's first impression for guests and by-passers. It can affect your mood or reflect your personality. It can also increase the curb appeal and value of your home, by setting the tone for the rest of your exterior and interior.
Colour Considerations
Start by getting a general feel for your home's exterior. What is the theme of your home? Perhaps your theme is mid-century modern, contemporary, Victorian, or rustic. What is your colour palette? Maybe it is neutral, earthy, or vibrant – you can draw from organic matter, stone, and other materials and elements to help you with this.
Ideally, you will want the colour of your front door to match or compliment the colour of your door frame, as well as your front-facing windows and garage door. Do you want to go with a monochromatic theme or let your imagination run wild? Whether you want your front door to blend in or stand out is completely up to you. If you are unsure which colours work well together, you may resort to colour resources.
Paint Considerations
Keep in mind, different types of paint have different uses. You want a thick, opaque outdoor paint that will go on smooth and avoid peeling and fading. Select the paint that is best for your door's material, and desired finish. If you need some direction with this, it is always a good idea to do some research and reach out to a professional.
If you are in need of a completely new door, Luma Doors + Windows offers a wide array of fiberglass and steel front doors in a variety of colours to match your home. To shop our front door collection, or gain some colour inspiration for your next paint project, contact us or reach us at (905) 303-0560.
Read More: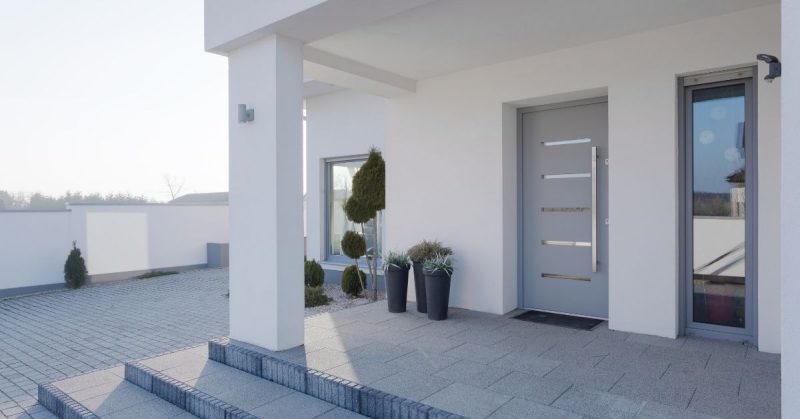 There are many options available for residential and commercial properties when it comes to entry [...]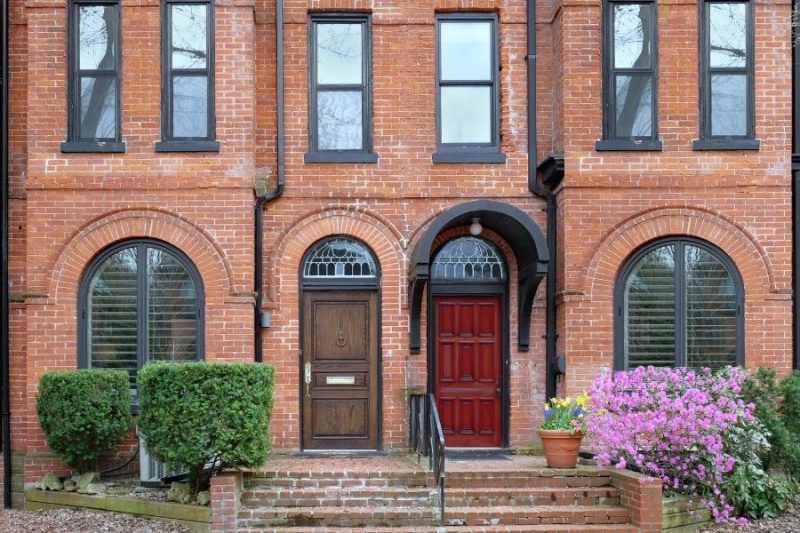 Homeowners are often surprised to learn that windows and doors have undergone quite a bit [...]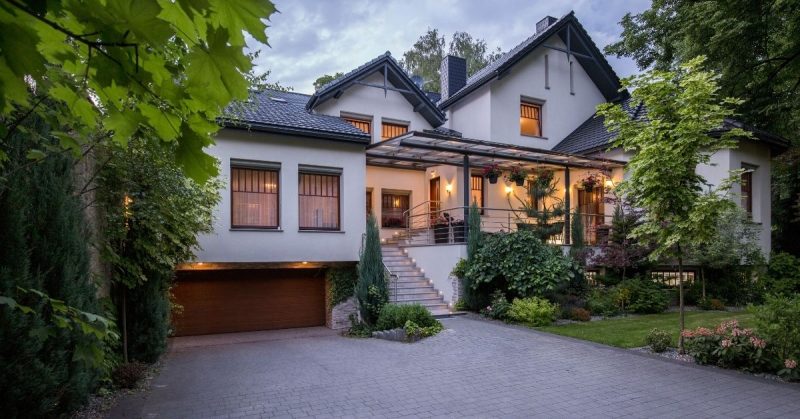 When you're in the market for a new house, you will be greatly influenced by [...]